Product
Screwdriver Bits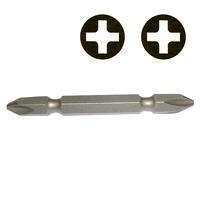 Screwdriver Bits
Product ID: Double Phillips- PH1 x PH1 ~ PH3 x PH3
Meeng Gang is a power screwdriver bits supplier and manufacturer of screwdriver bits, ratchet screwdrivers, and drilling accessories for power tools, and specialty screw. Double-ended power screwdriver bits sets are quite handy in using, which have a tip on each end and a hexagonal shaft in the middle. These types of bits also feature a Phillips bit on both end and can be simply pulled out and turned around.
The power screwdriver bits kits we provide is known for it is durable, unique, and trouble-free performance throughout the industry. Moreover, the screwdriver bits are with grooves highly suitable for air tools requirements. The function of phillips screwdriver bit sets are suitable for use in industrial, construction and DIY applications, and it will fit most of fix power tools.
Being a leading manufacturer of power screwdriver bits sets and drill bits kits in Taiwan, Meeng Gang specialized in providing reliable and durable drilling accessories for various applications. Further, products packing are available for customers in any combinations orders. For more detailed information about our products, please view at www.allproducts.com/tool/mgtools/ and contact us anytime.
Specifications:
Size: 1/4" Hex. Shank PH1 x PH1 ~ PH3 x PH3

Length: 45mm ~ 152mm (1-4/5" ~ 6")

Available Raw Material: 8660(Chrome Molybdenum), S2(Spring Steel/Tool Steel)

Finished: Sand Blasting, Black Oxide Finished, Chrome Plated, Nickel Plated, Brass Plated, Titanium Plated.

Packing: Any combinations are available. We appreciate any Artwork / drawing from customers.
Order Information:
Minimum Order: Negotiable
FOB: Taiwan