Product
Stainless Bits Set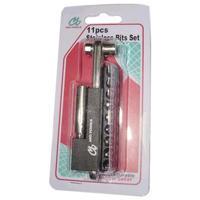 MG-Z11001 Stainless Bits Set
Product ID: MG-Z11001
Contents: 1pc RWS 14 Stainless Reversible Ratchet Wrench + 1pc 1/4H*60mm Stainless Bits Holder + 9pcs 1/4H*25mm Stainless Bits
Specifications:
Packing: PET Sliding Blister on Card
Features:
Compact bits set doesn't occupy too much space but with diversity function.

The Bits seat was designed with hook in order to mount on the belt for easy carrying.

Suitable for using in car, office, outdoor, narrow area and DIY repair.
RWS14 is rotatable from right or left.
Whole contents are made of stainless steel which has Anti-Rust and Durable features;therefore, it can be used in boat, skiing, water-motor, and yacht etc.
The bits and bits holder can be connected with power tools as well as pneumatic tools.
All materials fulfill Environmental Protection Requirement.
Order Information:
Minimum Order: Negotiable
FOB: Taiwan