Product
Merlin Essence Coupler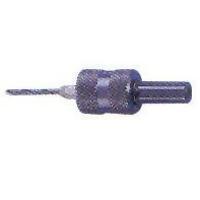 Quick Change Coupler slides various bits / Drills in and out in seconds
Product ID: AC12
The most unique accessory that converts any drilling and screwing works to be more efficient and pleasant.
Quick release enables easy and fast way to change tool for drilling hole and screwing.
Attached with our unique "Drill & Drive bit", including: No.1 x 2mm (3/32") drill. No.2 x 3mm(1/8") drill, and NO.3 x 4mm(5/32")drill.
3/8" shank-fits chuck of power drills, Maximum RPM2,500.
Order Information:
Minimum Order: Negotiable
FOB: Taiwan