Product
Quick Change Coupler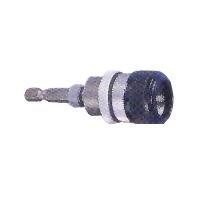 Quick Change Coupler slides various bits in and out in seconds
Product ID: AC11-A
Advantages:


1. An unique accessory that converts any electric drill into a powerful "screw gun".
2. Easy depth Adjustment enables precise countersinking and counterboring of screwing in drywall particle board and plywood.
3. Efficient operation range in total 12mm, i.e. to partake 6mm each for screwing of countersinking and counterboring.
4. Heavy duty alloy steel and metal construction holds and guides screws firmly to speed up work and increase accuracy.
5. 1/4" shank-fits chucks of power drills and hand drills, Maximum RPM2,500.
Order Information:
Minimum Order: Negotiable
FOB: Taiwan